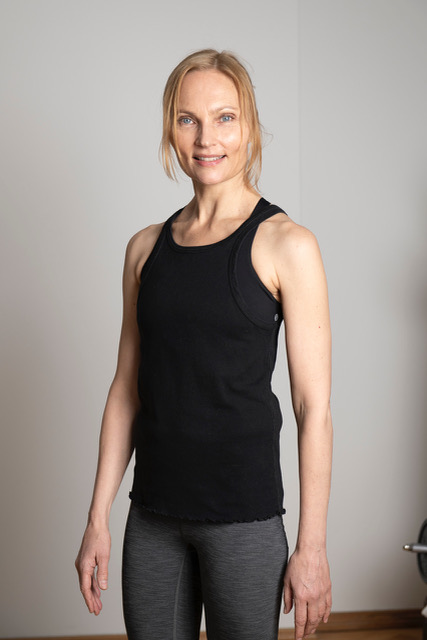 1991 Anke Hauerstein graduated from The Martha Graham School, after studying four years of modern dance. She worked with several choreographers in New York City and in Germany.
During her dance studies in New York, she discovered GYROTONIC®, and was fascinated by the freedom gained through the movement system.
1998 she opened her own Studio for GYROTONIC® in Berlin.
2006 after many years of studying with Juliu Horvath, the founder of GYROTONIC®, Anke Hauerstein became a certified GYROKINESIS® Master Trainer and provides the complete education for the GYROKINESIS® Method
2009 Anke Hauerstein is certified as a GYROTONIC® Master Trainer and teaches the complete education for the GYROTONIC® Method.
2011 Juliu Horvath authorized Anke Hauerstein to guide GYROKINESIS® Certifications in Germany as well as internationally and she became a specialized GYROKINESIS® Master Trainer.
2018 Anke Hauerstein became a Gyrotoner Mastertrainer and 2022 Leg Extension Unit Mastertrainer
1996 Anke Hauerstein started to study Taijiquan and Qi Gong in the Institute for Martial Arts and Health in Berlin.
2000 to 2008 she was invited to teach Taijiquan at the Hans Eisler University in Berlin.
2002 After being introduced to Grand Master Chen Xiao Wang representing the Chen Style, she became a member of the WCTAG (founded by Chen Xiao Wang and Jan Silberstorff).
2003 Master Zheng Yi certified Anke Hauerstein for Qi Gong of the Four Seasons.
2006 she was certified by Master Jan Silberstorff and received her trainer certificate for Taiji Chen style.
Anke Hauerstein continuously participates in educations of GYROTONIC® & GYROKINESIS®, Taiji Chen style and other fields.